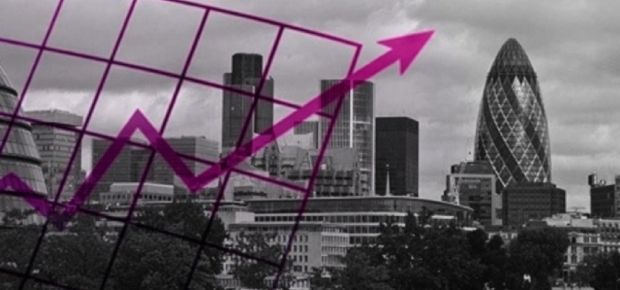 UK slips into double-dip recession
Official data from the Office for National Statistics showed today that the UK had technically entered a double dip recession, i.e. experienced two quarters of GDP contraction. We learned that UK GDP came in at -0.2% in the first three months of 2012, following the 0.3% fall in the last quarter of 2011. It was the first double dip recession since 1970, and surprised markets with economists anticipating a 0.1% gain. The main drag on activity was a 3% drop in construction, with the UK's dominant services sector expanding at a meagre 0.1%.
The data came at a time of difficulty for the UK's governing coalition, who have been losing support over the last few month following the budget which has been criticised by some as appearing to favour the wealthy at a time of economic hard-ship. There is also the ongoing Leveson enquiry into the relationship between the government and the media, with executives from News Corporation (Rupert and James Murdoch)facing cross examination over the last few days. It emerged yesterday that the Culture Secretary, Jeremy Hunt, presided over a close relationship with News Corporation throughout the company's bid for British Sky Broadcasting, the fallout from which has already caused the resignation of Mr Hunt's adviser.
There was also disappointing data out of the US, with durable goods orders surprisingly falling 4.2% from the previous month, against expectations of a 2% gain. Excluding transportation orders (which tend to be more volatile and distortive), the core number was down 1.1% compared with the anticipated rise of 0.6%.
Despite the disappointing macro updates, stock indices held up well, with the UK opening higher although flattening out around midday. Europe fared much better however, with markets in France, Spain and Italy up more than 1.5%, possibly due to robust 1Q earnings from the Spanish bank BBVA. Spain's second biggest lender reported net profit of €1 billion (slightly ahead of forecasts), with the percentage of bad loans holding steady at the end of December, and well below the sector average. The bank also reached a core capital ratio of 10.7%, ahead of the 9% target set by the European Banking Authority.
Over in the US, indices were higher although the NASDAQ was up more than 2%, boosted by Apple Inc that reported 1Q results post market close yesterday that smashed through analysts expectations. Shares in the tech giant were up almost 10% after selling 35 million iPhones and almost 12 million iPads in the first three months of 2012, equating to revenue of $39.2 billion and $11.6billion in profits, nearly doubling compared to the equivalent figure last year.
The FTSE 100 finished the day marginally higher at 5718.9, representing a 0.2% gain for the day.